Author:

Nina Munteanu
Narrator:

Dawn Harvey
Series:

The Splintered Universe Trilogy, Book 1
Length:

11 hours 27 minutes
Publisher:

Iambik Audio Inc.
Genre:

Science Fiction
Outer Diverse is the first book of the Splintered Universe Trilogy, set in and around the Milky Way Galaxy. The first book begins as Galactic Guardian Rhea Hawke intestigates the massacre of an entire religious sect, catapulting her into a treacherous storm of politics, conspiracy and self-discovery. Her quest for justice leads her into the heart of a universal struggle and toward an unbearable truth she's hidden from herself since she murdered an innocent man.



Nina Munteanu is a Canadian ecologist and novelist. Her novels include: Collision with Paradise; The Cypol; Angel of Chaos; Darwin's Paradox; The Splintered Universe Trilogy; and The Last Summoner. In addition to eight novels, she has authored award-winning short stories, articles and non-fiction books, which were reprinted and translated into several languages throughout the world. Recognition for her work includes the Midwest Book Review Reader's Choice Award, finalist for Foreword Magazine's Book of the Year Award, the SLF Fountain Award, and The Delta Optimist Reviewers Choice Award. Nina's latest non-fiction book—"Water Is…" a scientific study and personal journey as limnologist, mother, teacher and environmentalist—was picked by Margaret Atwood in the NY Times as her #1 choice in the 2016 'The Year in Reading'.
Nina is a member of SF Canada. Much of Nina's work is on the environment and sustainability, examining the role and evolution of humanity in the context of nature and technology. Her upcoming novel "A Diary in the Age of Water", a near-future dystopia that explores the socio-political intrigues of water shortage in Canada, will be released in 2019.
Nina regularly publishes reviews and essays in magazines such as The New York Review of Science Fiction and Strange Horizons. She has been staff or guest writer for several online and print magazines or newspapers including Amazing Stories, Clarion, Niverville Citizen, and CBC Canada Writes. Nina co-edits Europa SF, a European speculative magazine. She was assistant editor-in-chief of Imagikon, a Romanian speculative magazine, and currently edits for Grimoire Books, USA, and Future Fiction, Italy. She has also served as acquisition editor of several anthologies such as "Water" (Reality Skimming Press) and "My Canada" (IOWI). Nina was interviewed or an invited speaker on topics to do with science & climate change, eco-fiction, writing and publishing at: The Globe and Mail, CUIT Radio, Delta Optimist, the Editors' Association, Gazeta SF, Mississauga News, Impakter, Langley Times, THAT Channel, Observatorul, Planet S, Speculating Canada, Times Colonist, The Commentary, World Poetry Café, Wonderville, CanCon, and When Words Collide, among others. Nina was the science fiction writing Guest of Honour at Limestone Genre Expo in 2016.
Nina has taught writing since 2005 and currently lectures at George Brown College andthe University of Toronto. She has been a writing coach and editor since 2005 and has worked with novice and established writers toward successful publication. Her books on writing "The Fiction Writer: Get Published, Write Now!" and "The Journal Writer" (Starfire) are used in universities worldwide. They were translated into Romanian and published by Editura Paralela 45.

Dawn is an actress, singer, voiceover artist, and writer. She has narrated just under 50 audiobooks and is the recipient of both Earphone and SOVAS Awards for her audiobook work. Dawn lives in Calgary, Alberta, Canada, holds both Bachelors and Masters of Law degrees, is the mother of three adult children and shares her life with Dani, the most perfect dog in the world!
Dawn has been performing for as long as she has been able to walk, talk and sing. Her first memory is of being 5 years old, waiting on top of a hill with her family for the fireworks to begin and entertaining the hill full of audience members by dancing and singing "We'll Sing in the Sunshine", a song that had been released by Gale Garnett only a week earlier.
A stage and film actress for decades, Dawn began her voiceover career over a dozen years ago. Dawn's voice has been described as rich, warm, smooth, soothing, calming, sultry, confident, and comforting. Specializing in narration, e-learning, animation and audiobooks, Dawn's years of acting training enable her to bring characters, their voices and their stories to life. Dawn's love of learning new accents and developing new characters results in the growth of her portfolio year over year. Dawn's equal love of learning in general (how many actresses do you know who hold a Masters of Law degree? It might be a sickness, really) has resulted in her acquiring extensive training in acting for film, stage and voiceover over the years and to this day. This, in addition to her years of classical singing, musical theater and dance training, combined with her love of play and fascination with the human psyche (her undergraduate training is a combination of theatre, psychology and oil and gas management), allow her to continually create authentic characters, unique to a project's requirements.
Tell us about the process of turning your book into an audiobook

.

The process was magical for me. It was professional and proceeded at a pace that felt productive. All of this was mainly because of the professional relationship I had with the narrator. From audition to each step of quality assurance in ensuring character voice, pronunciations, mood, tempo, etc. the narrator and I were in good communication. The final product shows. I can't recall how long it took for each audiobook to be created, but it didn't feel long.
How did you select your narrator?

Dawn Harvey auditioned for my first book along with two other narrators through the audiobook publisher, Iambik. I picked Dawn because her voice resonated with my idea of my main character, Rhea Hawke, a cynical badass detective on a mission to save the world. Dawn's voice carried attitude and sarcasm as well as compassion and kindness. It was exactly what I was looking for in my paradoxical character. Given that the book is told in the first person, the main character voice was critical. Dawn just nailed it. When the second and third books came out, I just HAD to have Dawn do them too–not just for consistency, but because in my mind, Dawn WAS Rhea.
How closely did you work with your narrator before and during the recording process? Did you give them any pronunciation tips or special insight into the characters?

We worked fairly closely. Dawn took the driver's seat in it. She was very professional. She sent me sections of audio to check for tone, voice, etc. She created a list of voices (I had at least twenty different alien species she needed to create unique voices for–one with multiple mouths! And another was a kind of "amoeba"–her voices were splendid!) and a list of terms with her pronunciations for me to vet. She had also asked for more information on the characters, which I was able to provide, given I keep a character dossier on all characters I create.
Were there any real life inspirations behind your writing?

There were many, but I'll tell you about one. My historical fantasy The Last Summoner was inspired by a work of art by Croatian artist Tomislav Tikulin. It was the image of a magnificent knight, standing in a huge drowned cathedral–littered by war– the knight gazes up at the vaulted ceiling. A great light shines on the knight in streams of white gold. It sent my imagination soaring with thoughts of chivalry, adventure and intrigue. Who was this knight?
How do you manage to avoid burn-out? What do you do to maintain your enthusiasm for writing?

Burnout happens when you push too much or let others push you too much. Letting go and flowing with my own creative juices and inspirations is something I had to learn to do. There's a balance, of course, because discipline is also necessary to get things done. Working for others as a writers, I often have deadlines. I deal with this by prioritizing my work and setting (or accepting) realistic deadlines. I don't procrastinate and start early to give me time to let things sit and my creativity flow and meander freely. When I'm working on several projects (which is most of the time), I let myself move from one to the other as my muse takes me; this allows the creative process to flow unrestrained and more efficiently. Burnout arises from frustration; I feed my whimsical muse so this doesn't happen.
Are you an audiobook listener? What about the audiobook format appeals to you?

I like to listen to audiobooks in the car, especially when I'm on a long trip. I find it a wonderful way to enjoy a book. It's very relaxing. When my best friend and I used to do road trips down to California from Vancouver, we took turns reading a novel or nonfiction book out loud as the other drove. It was lots of fun. With audiobooks I can do the same even when I'm the only one in the car!
What gets you out of a writing slump? What about a reading slump?

If I'm in a slump, it's usually because I can't figure something out–usually some plot point or character quirk or backstory. What helps me is to put the book I'm working on away and do something else. It could even be writing something else, so long as it isn't my book. Or I could do something else on the book such as edit a certain section or research some element. Other ways I coax my muse back are walks in Nature, reading a good book, visiting the library or a bookstore and cycling.
What bits of advice would you give to aspiring authors?

Learn your "voice" and how it's unique from anyone else. Write from the heart, write something that means something to you, and keep writing. Success in writing results from a passion to share. If you infuse your writing with passion, everything else comes with it: the patience and determination to learn craft, marketing, and the persistence in your pursuit.
Do you have any tips for authors going through the process of turning their books into audiobooks?

Know what you're looking for to represent the "voice" of your book. Know the narrative voice you want for your book and don't compromise on it. Work respectfully with your narrator: if they are good, they will turn your cherished book into something more than it was. Let it surprise you and delight you. Together, you and your narrator will become more than the sum of the parts. Enjoy the process and don't rush it.
What's next for you?

I recently finished my latest novel, "A Diary in the Age of Water", which was picked up by a Toronto publisher and will be out in 2020. I am currently working on the third book in my "Alien Guidebook" series of writing guides. This one is called "The Ecology of Story: World as Character" and I'm having lots of fun with it! Re audiobooks, I'd love to work with Dawn Harvey again and I'm looking into creating a series of short audio films from my 12-chapter book on water ("Water Is…"). What do ya think, Dawn?…

What Kind of Hero is Rhea Hawke? by Nina Munteanu
"Rhea Hawke…I want to be her when I grow up."–Amazon Review
Something is changing for women—and for men too. I'm talking about storytelling—and what makes a hero. Only a few years ago, no one would have predicted the success of Wonder Woman, which portrays a well-rounded female hero as both "badass" warrior (strong, determined and violent) and kind (compassionate, nurturing, empathetic and inclusive).
The male hero stereotype of western neoliberal-corporate culture—and science fiction particularly—has often been characterized by strength, courage, honor, intelligence, and assertive single-mindedness. He is the altruist warrior, often acting alone against an unfair society: all traits honored, respected and esteemed in men. In a woman, these Boadicean qualities often taint her as "bitch", "bossy", "cold" or even heartless. She may be considered unwomanly, unlady-like, intimidating, and untouchable (as in lesbian).
In the patriarchal model, a woman "hero" must shed her feminine nurturing qualities of kindness, tenderness, and inclusion, to express those hero-defining qualities that are typically considered male. I have seen too many 2-dimensional female characters limited by their own stereotype in the science fiction genre—particularly in the adventure/thriller sub-genre. If they aren't untouchable goddesses or "witches", they are often delegated to enabling the "real hero" on his journey through their belief in him: as Trinity enables Neo; Hermione enables Harry; and Lois enables Superman. In so many of these storylines, the female—no matter how complex, interesting and tough she starts out being—demures to the male lead to support his hero's journey—without considering her own. And this often means serving as the prize for his chivalry. There's even a name for it: the Trinity Syndrome.
A different kind of hero is gaining momentum in science fiction and action-thrillers in which the heroic gifts of altruism, compassion, faith, courage, passion, and endurance drive the female lead. We see her in movies and TV shows like Edge of Tomorrow, Hunger Games, Divergence, Orphan Black, Farscape, Battlestar Galactica and The Expanse. She fights the dragons of prejudice, ignorance, cruelty, greed and intolerance–either in partnership with her male counterpart or alone.
Enter Rhea Hawke, Galactic Guardian: wounded hero with a massive grudge. She's the only human in a galactic police force of giant alien Eosians (who she despises). In the early scenes of Outer Diverse, Rhea is a "badass"; but she's also far from heroic—displaying cynicism, open racism and even cruelty to her own colleagues. And yet, in her stubborn resolve to solve the massacre of a spiritual sect—even after she's fired for killing her suspect—and to solve the mystery of the alien spectre of the Vos (who destroyed her home planet Earth), Rhea betrays a humane need to right all wrongs, including her own.
Rhea's journey is large—epic, even. It's a journey of transformation, both literally and figuratively. Her journey of self-discovery will take her across the galaxy, only to find that compassion and forgiveness were with her all along. She just needed to uncover them to find her whole self. Her sometimes foil and love-interest, Serge, continually bates her, challenges her and even betrays her. By turns a foil and an ally, Serge is Rhea's perfect counterpart; not weaker or stronger, he is an equal to her. A true partner. And their banter is some of the most rewarding writing I've done in my career.

Profile of Rhea Hawke
Date and place of birth

Twenty-three years ago, 192 SGT, in Vancouver, Canada; daughter of Laura Wood and Colonel Mark Hawke. Hawke was shot down in the Vos invasion of Earth when Laura was six months pregnant with Rhea—just as the Eosians came to rescue Earth from annihilation.

Physical

attributes

Face dominated by strong features for a woman: a long, almost aquiline nose and full mouth framed by well-defined cheek bones and a firm jaw. Face framed by dark, long, wavy hair, which Rhea tends to tie back when she's working. She stands at 6-feet and carries a long confident stride.
Idiosyncrasy

A tendency to bluster and bluff with biting sarcasm when under attack. She often recites a wise proverb when she's nervous. Rhea hides her kindness and compassion—even from herself—with an arrogant, overly-confident and alienating composure.

Job

Galactic Guardian Enforcer. Rhea joined when she was fifteen. She served as an Enforcer-in-training for two years then became a full Galactic Enforcer at seventeen—over much protest from the rest of the Eosian Precinct.

Weapon of choice

MEC (Magnetic-Electro-Concussion) pistol, a solid handgun of her own design. In a single sweep, the wave-weapon can maim, render unconscious or kill according to someone's DNA.

Clothing of choice

Black Enforcer clothes and her Great Coat, made of intelligent material that protects, alerts, and enhances her abilities in her work.

First injury as an Enforcer

A long wound on her lower left buttock from the slash of a dool blade; she'd received it in a skirmish with Venik slave traders who had ambushed her on EpsEri 2. It was before she learned how to handle her Great Coat

Most loved

1) Jasper, her tappin, a cat-like stray she feeds and sleeps with when she's home. 2) Serge, the mysterious seductive art collector (before her discovery)

Most hated

1) The Vos, who invaded the galaxy and killed her father. 2) The Eosians, who saved Earth from annihilation by the Vos. It's complicated. Rhea calls them baldies (given they are completely hairless). 3) Serge (after her discovery)

Most ironic

Rhea signed on with the Galactic Guardians, Rhea as the only human amid only Eosians—who she hates.

Favourite drink/drug

Rhea likes to drink soyka, a coffee-like soy-based stimulant. She is addicted to soyka gum and relies on it when she is nervous. Despite telling Laura Dob of Galaxy News that her favourite drinking place is the Muddy Pit in the Hive, Rhea very seldom goes there.

Dark secret

Rhea has several, but the best ones she isn't even aware of.

This is the first book in a new series and the first from this author for me. We follow the misadventures of Reah Hawke an Galactic Guardian, who is investigating mass murder of a Religious Sect. This is a long listen and you have concentrated at first to get the picture on Reah, the universe she inhabits. We follow Reah's investigation with a tough and gruff EXTERIOR HIDES of things that have happened in her past that have haunted her ever since. The more you learn the more you want to KNOW. There is one concession when I finished there is book two to listen too.
The narration is addicting leaving you wanting more.

I received this audiobook as part of my participation in a blog tour with Audiobookworm Promotions. The tour is being sponsored by Nina Munteanu. The gifting of this audiobook did not affect my opinion of it.

Prize: Print copies of the Trilogy set
The Splintered Universe Trilogy Giveaway: Print Copies of the Trilogy

Book One
Jan. 8th:
Jan. 9th:
Jan. 10th:
Jan. 11th:
Jan. 12th:
Jan. 13th:
Jan. 14th:
Book Two
Jan. 15th:
Jan. 16th:
Jan. 17th:
Jan. 18th:
Jan. 19th:
Jan. 20th:
Jan. 21st:
Book Three
Jan. 22nd:
Jan. 23rd:
Jan. 24th:
Jan. 25th:
Jan. 26th:
Jan. 27th:
Jan. 28th: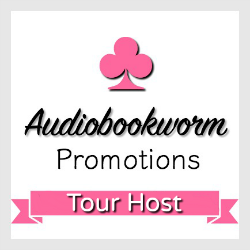 ➜Sign up as a host here